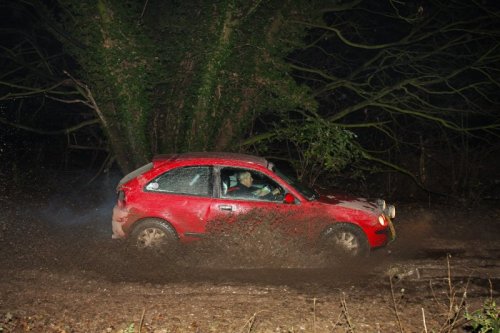 Winners of the 2017 Preston: Mark Banham / Mathew Smalley
Well, now that the dust has settled, (probably a misleading turn of phrase) I thought I ought to say a few words about our surprising weekend. It started on Friday when, after Thursday's test run, I found I had a leak in the fuel tank, so spent Saturday changing that. I struggled with the fittings and was so frustrated I nearly throw in the towel. And I was about to leave on Saturday evening but couldn't get any sidelights on one side of the van or any on the trailer. I ended up cable-tying 2 inspection lights with red film to the back of the trailer! We were a bit late getting to scrutineering, and were amazed to see the queue ahead of us! This meant we were going to be late getting to the Little Chef

It felt like a slow start before first petrol but we got into the swing of things after that. Not helped by an overshoot at a sticky slot left on Bay Farm, where Rob Kitchen wiped the tape out with his overshoot! I was pleased to see Methwold Warren as I do like that one, but we lost time on the new 90 left through the gate as it was much tighter than I anticipated and ran up the bank, which was better than hitting the gatepost behind it I guess. With the Methwold bumps Rob Kitchen now reckoned he had a strut coming through at the front and was about to retire but decided (wisely) to carry on. Ickborough and Foulden were ok , but I think we overshot boards and had to reverse up. Cockley Cley was alright, but I see what they did to keep a bit of mileage after losing a venue. Thompson was nice as a new one, although we could have been out in there. In the woods on a wet, narrow, bumpy section we ran wide into a ditch. With the car at an angle I kept the power on and it came out. Phew! While all this was going on I was thinking about what we were going to do and how we were going to get recovered. But it never happened and we were mightily relieved. Later on we missed the tricky slot right as we spotted a car ahead. It was car 1 and we were grateful for Stefan and Adrian Gladwin to point us in the right direction. I'm not sure if it was the end of this test or the start of Great Plantation but we nearly went wrong following the tracks in the field from the targa rally, rather than turning left mid field and following the arrows. Sounds like we weren't the only one though. There were warnings that parts of Great Plantation were very muddy and sticky so we decided not to go too mad and get stuck, but it looks like we were mad enough as we only dropped a couple of seconds. The next highlight was Croxton, that was great. Although we lost time as we had to go back for a board. Mathew wasn't certain he'd got it right as I was going a bit too quick. I try to look at the boards too but this one was quite low and I couldn't even see it. Other than that, great forest roads.
We got to petrol and looked at the times. I was surprised where we were, in second. But others were making up ground after a slow start, so I thought I ought to start taking things seriously as we might be in with a shout at a win. Euston was amazing, (yes, put that down as my fave one Brian Jaggs) I pushed and it all clicked. Foxpin was as you've expect, sandy, with all the bumps at the end. Ingham was great too, but we had a half spin trying to get into a field. The water was deep and muddy but the car never missed a beat, although we came across a limped Rob Kitchen who had swallowed a load. Dukes Ride was nice. We came across Owen Turner stranded in a field and being towed out by Tony Harrison's Celica. Apparently this corner was very tricky and was to be the downfall of Craig Bellworthy /David Smalley. This was a real shame for them as they were going well. It sounds like if Owen hadn't been there it could have been us in the field. We pressed on but cocked up the LWRT near the end, sailing off in the wrong direction and ending up on the wrong side of the strip of trees from the finish. So we had to go all the way back up the field to the triangle, where we met Owen again, who kindly let us go in front. Only a quarter of a mile to the control and we hit a massive hole and then there was a terrible noise. It turned out the sumpguard had been pushed right up onto the exhaust. The engine was now idling at 3000prm too and I couldn't get it to stop. So we went into the last section with lots of noise. I thought we had lost a load of time with our wrong slot to pushed hard again, even though it was the last section. At the finish the tickover was back to normal and the exhaust wasn't to bad either. We'd finished

Which was a relief after last year and all the issues on the targa.
So we sat at breakfast and it was slowly coming through, that a win was on the cards. Unfortunately Andy Smith had retired, who had been leading so I was promoted to the win. I've had 2 seconds, 2 fourths, a sixth, seventh and ninth on this event and to get a win is a proud moment. I was particularly humbled by all the praise from previous winners who were at the finish. I think this was one of the toughest Prestons, with so much mud, water and bumps, but if it wasn't tough, you couldn't call it a Preston. I couldn't have done it without Mathew Smalley though, who was hanging onto his head torch, maps and pens quite tightly for most of the night. Thanks mate. The Rover 25 was incredible, it's only failing was the minor tickover issue towards the end. I had planned to retire the old girl and build a new car, but how can I do that now, it would be so insensitive. It was pleasing to have Kings Lynn DMC people holding 3 places in the top five along with Preston/road rally legends, Owen & Jamie Turner. Well done to Rob & Ed Rutherford for persevering and coming home with second, a great drive. It was a relief for Jonathan Stimpson and Brian Cammack to even finish, as before the event they had engine issues and towards the end they had clutch problems and lacked 2 gears! Fifth place was a brilliant result.
I don't do public speaking very well, especially without planning, so my on-the-spot speech at the finish was pretty rubbish really, so I'll sum up again:
Thank you to Brian and all the team who put this together. It's a mammoth task that we can't really comprehend or show enough appreciation for, but thank you. The marshals, as always, were brilliant, always a smile, always efficient, no matter what the conditions. And the conditions were pretty poor on the route, so thanks to the recovery teams for removing crews from the mire. There were great tests on the event so thanks to all the landowners and the venues for their support. Well done Tony Michael for keeping us informed with a sharp results service. Thanks to all the competitors, whether you finished or not, for continuing to support this unique event. I think the clubmans permit increased the entry numbers too, so that's got to be a good thing.
Role on 2018. I look forward to running car one (not!).
Mark Banham