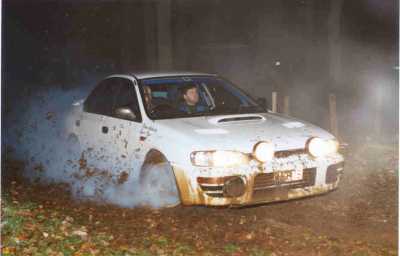 2001 winners - Steve Webster / Roger Hage. The Preston Rally - 8th/9th December 2001
This year's event was won by Steve Webster/Roger Hage in an Impreza. A possible Subaru top-three was denied by the Peugeot 205 GTi of Andy Baker/Lee Burgess and the Toyota Corolla of Martin Smith/Matthew Fowle. Are you sure you need that 4x4? Amazingly, all four team entries finished the event - with the Watling and Knutsford Mud Wrestlers just beating Olympic by one place.
The results: Final Overall Results
At Petrol Halt
IRTC Times (now with times for cars that retired)
Positions after each IRTC
Retirements Time Card 1
Time Card 2 Time Card 3
Time Card 4 Time Card 5
The final Entry List.
Previous Winners:
2000    Martin Payne / Alan Ogden         Audi 100
1999    Malcolm Russel / David Howe       Opel Manta
1998    Martin Self / Martin Smith        Toyota Corolla
1997    Mike Biss / Cath Woodman          Vauxhall Nova
1996    Sarah Harmer / Cath Woodman       MG Maestro
1995    Mike Biss / Cath Woodman          Vauxhall Nova
1994    Pete Gregory / Pete Tilling       Vauxhall Astra
1993    Dave Taylor / Jim Bowie           Mazda 323 4x4
1992    Mike Biss / Adrian Gladwin        Opel Ascona
1991    Dave Taylor / Jim Bowie           Opel Ascona
1990    Paul Wright / Brian Otridge       Ford Escort Mk I
1989    Brian Henderson / Brian Otridge   Ford Escort 2000
1988    Brian Henderson / Brian Otridge   Ford Escort 2000
1987    Dave Taylor / Dave Senior         Ford RS2000
1986    Mike Biss / Roy Hurst             Vauxhall Astra 1300
1985    Mick Shotter / Pete Turner        Ford RS2000
1984    Donald Fowler / Andy Berry        Sunbeam 2000
1983    Tony Wardle / Tom Bigwood         Ford RS2000
1981    Ian Rowles / Herman Ruijsenaars   Ford Escort 2000
1980    John Powell / Bernie Baker        Opel Kadett GTE
1979    John Barlow / Nigel Booth         Ford Escort 1600
1978    John Powell / Bernie Baker        Ford Escort BDA