The Preston Rally - 4th/5th December 2004


Sponsored by Proton dealership Prestons Garages Ltd of Writtle.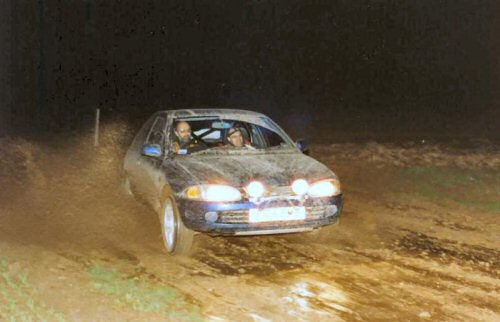 Clive Baty/Alan Ogden driving a Proton Compact to 9th place in 2003.

Results:
Overall Results
Results at First Petrol Halt
Results at Second Petrol Halt
Section Times
Positions After each Section
Time Card 1 details
Time Card 2 details
Time Card 3 details
Retirements
Team Entries, and what was left of the teams in the end: Team Detail
Entry List
Adrian Gladwin says:
Hi Everyone,
Well.... what a night !!! I myself think this was the best yet, and the toughest too - it was certainly the longest !
This is a general message to you all, sorry if its impersonal, but I simply want to say THANK YOU ALL, VERY VERY MUCH...
The success of an event like this is totally dependent on a great deal of commitment, dedication and very hard work from many people, and this year's Preston is an outstanding example of that... Its not just on the night itself, there is so much going on for months before hand, the week before and the weekend itself is unspeakably busy for lots of us, and then there's loads of clearing-up & following-up afterwards...
So many made such a great effort that the event couldn't be anything but the fabulous experience that it was and is ; and as the principle organiser I am quite overwhelmed...
The Preston Rally is a complex creature I can tell you, there are so so many aspects to it and it all came together so very very well this year - it usually does, but this time was remarkable. So to all of you who contributed to this success, in any capacity, thank you again, so very much. I cannot name everyone, so I'll name none... but you all know who you are, and you ALL did an outstanding job. I include competitors in this - what a great bunch you are ! Your enthusiasm for this event seems to be immeasurable !! Your generous praise at the finish and by various communications since then are very much appreciated and makes it all worthwhile.
Two sides of the event to which I do want to draw particular attention here & now : the overall standard of marshalling, and results - FANTASTIC !
Ideally, at some time I'd like to talk to everyone involved in the event - especially those who helped - and I will try, but its a tall order and will take some time ! The event is by no means over for some of us... there are many loose ends to tie & things which require finishing off... there's still a lot of work to do on the 2004 Preston Rally !! I do want to hear all the tales, all the comments, suggestions, criticisms ; I want to hear everything that everyone has to say about the event, but its gonna take time so please bear with me, keep it all in mind & don't forget anything - write it down if you have to ! If there is anything you want us organisers to know, and your preferred method of airing your views is internet forums, would you please use the Chelmsford MC forums since this is a CMC event, but please do mind your p's & q's.... thank you. If you want to e-mail me use this address only at the moment : adrian@unspoiltandalusia.com ; I seem to be having a little trouble right now with other e-mail addresses I have, and if you've sent me mail in the last ten days to any address other than the above I'm afraid I probably haven't got it...
Well done to all award winners, all finishers, and in fact to all competitors for simply being bold enough to enter The One & Only Preston Rally in the first place ! Congratulations in particular to Simon Harrison, Paul Holmberg and their splendid car - what a result eh ?!!! Welcome to a very special club !
Spirit of the Rally award... please post suggestions and reasons on the CMC website, thanks.
I don't have e-mail addresses for everyone that I would like this message to go to, so please forward it anyone & everyone who you think should get it or might be interested,
Thanks everyone, all the best,
Adrian