The XPart Rally - 15th February 2014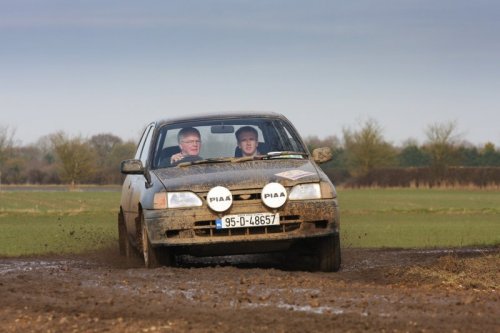 Eamonn Byrne and Anthony Preston, Toyota Starlet - winners of the 2013 XPart Rally
It is with great disappointment that we have had to postpone the 2014
XPart rally.
Like much of the UK, the area has been subjected to an unprecedented
amount of rain water and many of our landowners who have supported this
event from the outset have expressed concern regarding damage to tracks
due to how much water is present.
We have worked tirelessly over the last two weeks to try and resolve
this situation but with yet more rain falling since the weekend it has
left us with no choice but to issue this statement.
The XPart landowners are still willing and keen to continue to support
the event and have helped us in many reroutes and in one notable case
trying to roll and drain some of the worst of the water away! It is
through their goodwill that we use their land and many have acknowledged
that we have taken this tough decision in order that we will be allowed to return.
The hotel has been advised of the decision and those of you that have
booked the hotel must cancel their booking now.
Plans are afoot to move the date to later in the year when hopefully the
weather will be kinder to our ventures, of course you will all beinformed
as soon as a date can be agreed with the Championship and our
landowners.
We cannot express our apologies enough to those that have entered and
also to those who have pledged their support to assist in the event
either in the lead up to and on the day but please understand the
difficult decision we have been forced to make.
We will obviously make a full refund of entry fees to those that have
paid and we ask for your continued support for the new date for the 2014 XPart rally.
Kindest regards,
Jamie, Bob and the XPart rally team


The XPart Rally is a day/night endurance road rally for lightly modified two-wheel drive cars limited to 1400cc petrol, 2000cc naturally aspirated diesel, and 1400cc forced induction diesel engines, built to the Endurance Road Rally formula. This event will be run in support of Help for Heroes; last year CMC events raised over £3000 for charity.
Starting mid-morning on Saturday 15th February 2014, the route will be centred around Bury St Edmunds, with over 100 miles of selectifs at various venues in Suffolk, Norfolk, Cambridge and Essex.
The day leg start will be from the Quality Hotel, Bury St Edmunds (the same hotel as last year, but with a new name), including breaks for lunch and tea followed by a supper halt at the Quality Hotel. The supper halt is included in the entry fee. The day leg is approximately 200 miles with approximately 80 miles of selectifs and some jogularity sections between tests.
The night leg will be approximately 120 miles including 20 miles of selectifs and approximately 20 miles of simple navigation on tarmac lanes (full night leg road book issued at supper).
The event will finish with an awards presentation at the Quality Hotel, Bury St Edmunds. A special rate has been negotiated with the hotel for those crews who wish to stay Friday 15th / Saturday 16th and/or join the organisers in the bar after the event.
The route instructions will be straightforward. Tulip road books and marked maps will be provided and complemented with detailed selectif diagrams to ensure that crews of all abilities can complete the rally.
There is an article about Endurance Road Rallying in the Spring 2012 Motorsport UK Magazine


A round of the Sportway Tyres Endurance Road Rally Championship