Britvic Endurance Rally - 19th February 2011
The 2012 Britvic will be on the 18th February.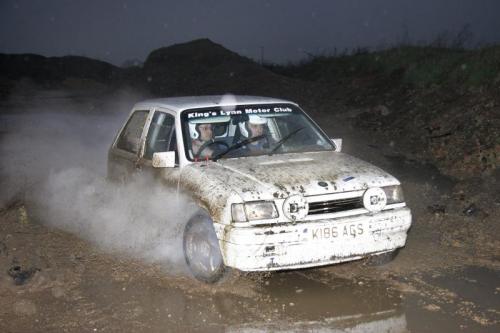 Dale Glover and David Peters - winners of the 2011 Britvic Revival Endurance Rally
Andy Manston's Britvic Photo Gallery
Final results:
Overall Results
Awards
Retirements
Teams
Results by Class
Results by CarMake
Selectif Times
Positions after each Selectif
Positions after each TC
Time Card 1
Time Cards 2&3
Time Cards 4&5
[G2:14178 type=randomImage size=200 class=left]EVENT FORMAT
The format of this new event will be run under the regulations of the Endurance Road Rally Championship and Motorsport UK Endurance Road Rally rules.
First car will leave from Sicklesmere at 10.00am on Saturday the 19th February 2011. Selective mileage will be approximately 80 miles. The evening road rally section will be very straightforward. The road book for the entire night section will be issued at the supper halt.
Crews not wishing to compete on the 15 miles of standard road rally section will still be eligible for an award, as long as they visit all MTCs.
There will be at least 14 miles of selective mileage in the dark providing Andy Manston (the event photographer) the opportunity to take some of his famous 'atmospheric' photos! (Check them out at www.mandhphotography.co.uk)
The start and finish venue will be a hotel near Bury St Edmunds and the normal Endurance scene of competitors in the bar after the rally will be mandatory (almost!) for all.
[G2:10679 type=randomImage size=200 class=left]CAN'T DO IT – THEN HELP
As with any event then marshals are the key. Although our Chief Marshal Claudia Aldridge has many offers of help, marshals are the most important people as without them there will be no event. Contact Claudia by email on

to offer your help either setting up, on the day or packing away – or all three!
HELP FOR HEROES
Help for Heroes raises money to support members of the Armed Forces who have been wounded in the service of their country. They ask their supporters to 'do their bit' to show these extraordinary men and women that they are cared for. This Rally will be making a donation to help for heroes and hopes that with a decent entry can send off a cheque for over £1000.
www.helpforheroes.org.uk
Team entries are wanted and form a donation to Help for Heroes. Should you wish to go faster on the day then any loose change can be deposited in buckets at the start and at various points throughout the day.
Snippets:
Andy Baker will use Jamie Turner's car in the event.
Owen Turner is possibly building a new car - sub £2000 to see if it can be done.
Most of the previous Lombard Revival winners have committed to compete or help on the event.


A round of the Endurance Road Rally Championship
EACS Endurance 2010 Photos from M&H Photography