26th March 2017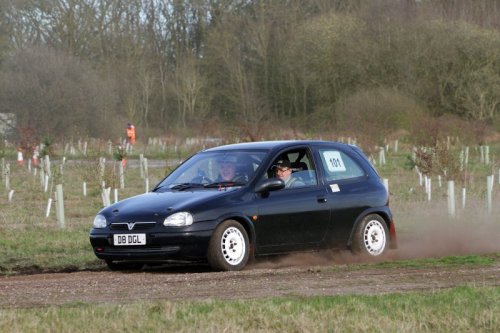 David Lobb / Adrian White - winners of the 2017 Javalin's Jumbo Targa Rally.
Regs ~ Entry Form ~ Update Entry ~ Entry List
On Sunday 26th March 2017 Anglia Motor Sport Club, in conjunction with Chelmsford Motor Club, will
organise a single-venue Targa Rally at Wethersfield Airfield near Braintree, Essex. Wethersfield was used
for CMC / WECC stage rallies in the late 1990s and is home to the MoD Police.
The Targa Rally has a number of one to two mile driving tests set out in different layouts which will vary
during the day.
Javalin Network Services Ltd sponsored the first CMC Gymkhana (a formula that has now evolved into
Targa) back in 2002. Javalin is one of the leading Network Infrastructure and Audio Video Solutions
installers in the south of England. Working primarily in the education sector, the company has amassed
a great deal of experience in installing on time, within budget and with the minimum of fuss.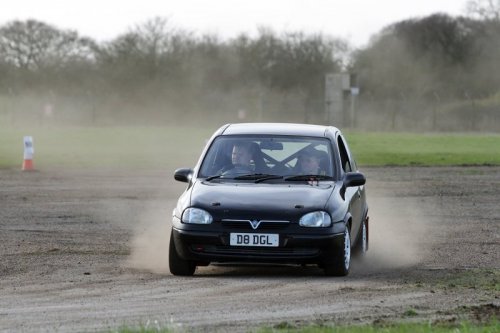 This event is closed-to-club - which avoids the need for an Motorsport UK competition licence, but means all
competitors must produce a club card of an Anglia Motor Sport Club member club at signing on.
Anglia Motor Sport Club member clubs are: Cambridge Car Club, Chelmsford Motor Club, Eastern
Counties Motor Club, Falcon Motor Club, Green Belt Motor Club, King's Lynn and District Motor Club,
Middlesex County Automobile Club, Sporting Car Club of Norfolk, West Suffolk Motorsport Club and
Wickford Auto Club.
The Targa Rally will be open to cars complying with Road Rally or Historic Road Rally rules.
See SR 7 for more details.
There is an award for best historic if there are 5 or more entries with pre-1986 cars.
If you need Chelmsford Motor Club membership for the event, please apply here: http://chelmsfordmc.co.uk/Membership
http://www.416th.com/wethersfield.html