East Anglian Classic Historic Rally
21st April 2007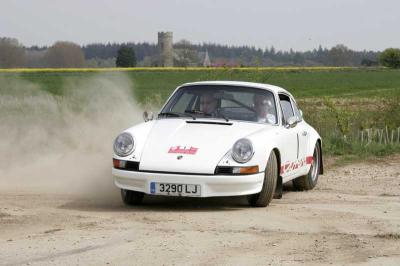 Paul Hernaman/Ray Crowther in winning form.
A gallery of Andy Manston's Pictures.
HRCR Article[G2:4305 type=randomImage class=right size=200 frame=shadow]
Top 10:
1 Paul Hernaman/Ray Crowther (Porsche Carrera 911) 28m33s;
2 Jim Deacon/Dave Wilson (Ford Escort RS2000) 28m37s;
3 Warren Chmura/Jean Chmura (Citroen DS) 32m24s;
4 Martin Neal/Michael Briggs (Austin Healey Sprite) 32m36s;
5 Gordon Popperwell/Brian Jaggs (Ford Escort Mexico) 33m08s;
6 Linda Orme/Richard Dix (Ford Escort Mexico) 33m59s;
7 Roger Ray/Paul Ray (Volvo 122S Amazon) 34m07s;
8 Emma Henchoz/Rob Henchoz (Volvo PV544) 34m07s;
9 David Mustardé/Mike Burrows (Alfa Romeo Giulia Sprint GT) 34m11s;
10 Geoff Twigg/Andy Gibson (Morris Mini Cooper) 34m16s.
Overall Results
Results by Class
Results by Experience
Results of the Regularities
Results of the Tests
Positions after each Regularity
Positions after each Test
A round of the Historic Rally Car Register Clubman's championship.