East Anglian Classic Historic Rally
20th June 2009.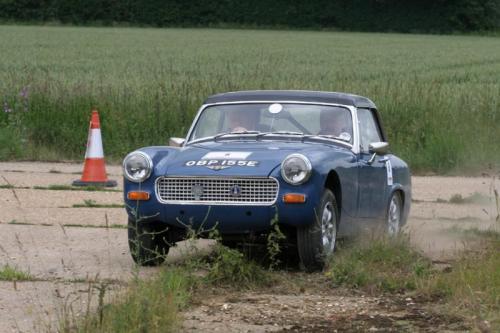 Martin Neal / Mick Briggs - Austin Healey Sprite - Winners of the 2009 EAC.

Results by Class
Results by Experience
Results of the Regularities
Results of the Tests
Positions after each Regularity
Positions after each Test
A round of the Historic Rally Car Register Clubman's championship.
New Date.
The event will be on Saturday June 20th 2009 to take advantage of the midsummer weather and longer days.
New Start and Finish venue.
The event will be based at the Barnham Broom Golf and Country Club which has easy access from both the A11 and A47, and no long run out or back.
Straightforward, shorter, smoother tests, retaining a variety of styles and venues to suit all types of car and crew.
New private land regularities on sealed surfaces.
More and shorter public road regularities as requested by [G2:4305 type=randomImage class=left size=200] competitors.
Lumenition East Anglian Classic Sponsorship Package
I am pleased to be able to give details of the sponsorship package as it affects competitors and marshals.
All marshals will receive a 25% discount voucher off Lumenition products (ignition systems and high quality leads etc)
All competitors will receive a free E-Z fit HT lead kit, and a 25% discount voucher
Overall and Experience class winners will receive a free Lumenition Electronic Ignition system (optronic or magnetronic) and a 50% discount voucher for other products, plus a bottle of champers.
We are extremely grateful to Autocar-Electrical Ltd for this very generous sponsorship package which has already enabled us to keep the event entry fee below £100, and are particularly pleased that marshals are included in the deal